Dinosaur Hunting Dino Attack 3D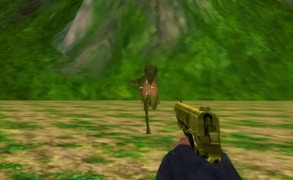 Dinosaur Hunting Dino Attack 3D
Welcome to the primordial world of Dinosaur Hunting Dino Attack 3D, a delightful integration of dinosaur games, hunting games, gun games, and sword games. This immersive shooting game is undoubtedly the perfect arena for hunting enthusiasts, offering a powerful blend of sniper shooting and real hunting, decorated with an astonishingly realistic archery action 3D simulation.
Moving deeper into the Jurassic landscape, Dinosaur Hunting Dino Attack 3D stands as a milestone in the genre of dinosaur games. Its unique take on the dinosaur archetype is nothing short of impressive. With dinosaurs of various shapes, sizes, and colors prowling the environment, every new encounter feels fresh and exhilaratingly unpredictable, keeping even the most seasoned hunters on their toes.
Adding to its allure, Dinosaur Hunting Dino Attack 3D takes a strong position among hunting games. The thrill of tracking and taking down these ancient beasts with your arsenal of weapons is genuinely satisfying. The detailed gunplay and swordplay mechanics enhance this gratification by offering smooth controls that allow comfortable maneuvering during intense encounters – placing it among the top contenders in gun games and sword games.
The game delivers an unparalleled realism that elevates it beyond just an ordinary dino hunter game. The visuals are stunningly lifelike; you can practically feel the dense jungle humidity and hear leaves crunch beneath your feet. Coupled with heart-pounding audio cues, each hunt unfolds like a well-told tale – making every subsequent playthrough more rewarding than the last.
In conclusion, if you're looking for an engaging gaming experience that successfully marries dinosaurs' fascination with adrenaline-pumping hunting action - look no further than Dinosaur Hunting Dino Attack 3D. This game truly excels at optimizing hunting thrills within a beautifully crafted prehistoric setting.
What are the best online games?