Dino Rush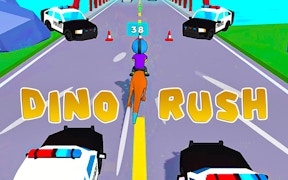 Dino Rush
Welcome to the incredible world of Dino Rush, a brilliant mash-up of red-blooded action, edge-of-your-seat tension, and prehistoric thrill. Part of the growing trend of running games, Dino Rush incorporates elements from stickman games, dinosaur games, skill games, and police games creating an exciting cocktail of adventure and speed.
This adrenaline-pumping game draws parallels to the expansive universe of Red Dead Redemption, but cleverly repackages it within a light-hearted dinosaur game. Picture this: you are given the opportunity to don the skin of a nimble velociraptor, racing against time and every imaginable obstacle in your path. With the law enforcement hot on your tail, you dash through the rugged terrain reminiscent of the Wild West. You have an escape plan - to outrun them just like in police games.
Dino Rush extends beyond traditional stickman games offering not just a visually captivating world but also a playing experience that tests your skills at each corner. Each new level challenges your agility and strategic thinking making it a standout in the genre of skill games.
The game echoes ARK's commitment to delivering light entertainment that's heavy on fun. But unlike ARK's survival-focused gameplay, Dino Rush presents itself as a relaxed running game with exciting races that refuse to compromise on energy or exhilaration.
In conclusion, Dino Rush is an engaging fusion of diverse gaming elements that deserves all its accolades. It amplifies the thrill of running games, captures the spirit of stickman games, adds an enticing layer akin to dinosaur games while incorporating nerve-wracking chase sequences typical in police games. With this unique blend of features and thrilling gameplay style – Dino Rush is sprinting its way into gamers' hearts worldwide.
What are the best online games?