Dino Grass Island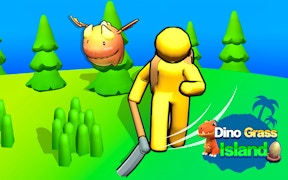 Dino Grass Island
Step into a prehistoric world teeming with adventure in Dino Grass Island, a captivating fusion of stickman games, dinosaur games, and idle games. The game brilliantly marries the thrill of action-packed gameplay with the satisfaction of building games and the entrepreneurial spirit of tycoon games.
The premise of the game is simple yet enthralling - you, as an expert animal tamer, must gather and hatch dinosaur eggs while tackling various challenges, giving the game a unique twist to traditional animal games. The action intensifies as you deftly navigate through each level, slashing away at the grasslands, and scouring through sprawling bushes in search of these coveted eggs.
You'll be immersed in this arduous journey, often forgetful that your underlying goal is to become the most proficient tycoon in this serene landscape. Each level's boss creature poses a formidable challenge, acting as gatekeepers to the next enchanting island. But defeat them you must, for glory awaits on the other side!
Dino Grass Island stands out amongst typical stickman games with its absorbing narrative and engaging gameplay mechanics. What truly sets it apart is how progressively challenging the game becomes - each new island explores innovative concepts that keep players on their toes.
The action never lets up in Dino Grass Island. So embark on this thrilling quest to become the finest animal tamer and tycoon in this mesmerizing world packed with intriguing surprises and relentless entertainment!
What are the best online games?