Deep Worm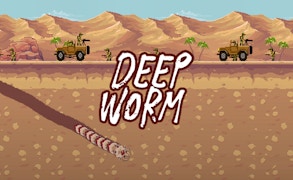 Deep Worm
Description
In Deep Worm, you have the unique opportunity to play as a terrifying, colossal worm set on devouring an entire army! You will strike fear into your enemies as you tear through infantry and crush military vehicles. This action-packed game is all about survival, as racking up points and maintaining your health. Engaging in large-scale attacks allows you to activate a bonus score multiplier.
How to play
The gameplay is straightforward but thrilling. You control the gigantic worm's movements, aiming to attack as many targets as possible in a single move. This not only yields high scores but also helps restore your worm's health. Your primary objective is to survive for as long as possible without succumbing to the army's counterattacks.
Tips and Tricks
Mastering combo attacks is key in Deep Worm. Strive to hit multiple enemies simultaneously to activate the bonus score multiplier. Additionally, prioritize attacking military vehicles over infantry for more points and health restoration. Avoid taking too much damage from counterattacks - survival is your ultimate goal!
Features
Action-packed Gameplay: Lead a giant worm into battle against an armed army.
Combo Attacks: Initiate combo attacks for high scores and bonus multipliers.
Health Restoration: Attacking enemies helps restore your worm's health.
Journey of Survival: Continuously fight against the armed forces with the goal of lasting as long as possible.
What are the best online games?
Tags