Death Lab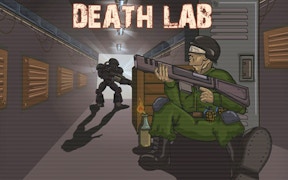 Death Lab
If you're in the squad of gamers who relish the intensity of war games and get a thrill from getting their digital hands on the deadliest armory found in gun games, then buckle up! Set your sights on 'Death Lab', one of the most exhilarating sniper games to ever hit your gaming arsenal.
Get ready to be completely immersed in a world where every bullet counts, and survival is not just about staying alive but tactfully annihilating foes. Not unlike many survival games, it's all about strategy. Except, this time you're not only surviving—you're wreaking havoc, showcasing an array of weaponry skills usually reserved for silver screen action heroes.
'Death Lab' places you right at the heart of a battlefield where ricochet bullets, grenades, and Tesla-rays aren't just your weapons—they are your lifelines. But besides all the intense shooting action, this game also boasts an engaging level-up system that lets you unlock new skills along the way, adding another dimension to its gameplay that goes beyond most shooter games.
The developer has done an impressive job at blending elements from various game genres resulting in a hybrid that triggers adrenaline like none other. The game's audio-visual design complements its intense gameplay perfectly, creating an atmosphere filled with tension and high stakes.
In conclusion, 'Death Lab' is not just a shooting game—it's an experience! Whether you're a seasoned shooter or new to survival games, this game lures you into its finely-tuned chaos with promise for heart-pounding action and strategic warfare. It's time to load up and step into the lab...the Death Lab!
What are the best online games?