DEADLY Dinosaur Hunter Shooter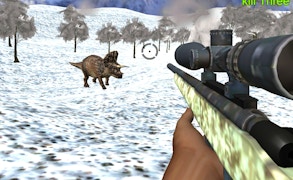 DEADLY Dinosaur Hunter Shooter
Welcome to the thrilling world of DEADLY Dinosaur Hunter Shooter, a gaming experience designed to challenge your survival instincts and sharp-shooting skills within an untamed Jurassic environment. This game isn't merely another entry into the saturated pool of gun games; rather, it's a captivating amalgamation of dinosaur games, hunting games, and battle games.
This game plunges you into an unchartered expedition within a dynamic Jurassic island. The thrill is no less akin to camping amidst bone-chilling snow, demanding from you an unwavering alertness worthy of the most intense sniper games 2020 had offered. What sets this game apart in the realm of dinosaur hunting is its audacious blend of settings -- icy glaciers and perilous peaks -- which injects an added layer of interest and intensity to traditional animal hunting games.
DEADLY Dinosaur Hunter Shooter refines its genre by offering intricate dinosaur hunting tasks set against a backdrop that stimulates your senses with sheer awe and terror. To survive, you'll need more than just marksmanship. This game compels you to adapt, strategize and master the art of survival in the harsh conditions.
If you're craving for an adrenaline-filled experience that tests your skills in new and unexpected ways, then brace yourself for a heart-racing adventure that will keep you on edge for hours on end. Dabble into the world of Dino hunting 2020. Face off against nature's most fearsome beasts and prove your supremacy in this intensely immersive battle game. Grab your gear, sharpen your senses, and step into the enigmatic world of DEADLY Dinosaur Hunter Shooter.
What are the best online games?