Dead Zombie Hunting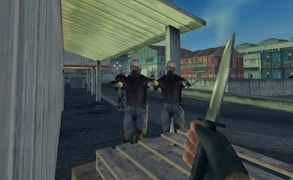 Dead Zombie Hunting
Welcome to the world of Dead Zombie Hunting - a terrifying, adrenaline-fueled, heart-pounding journey into the depths of the undead. As this game unfolds, it becomes abundantly clear that it is not just about shooting and action, but survival is also paramount in this game.
Dead Zombie Hunting provides a unique blend of genres - it's an unholy matrimony between zombie games, gun games, sword games, and hunting games. This horror-filled adventure drags you into an immersive experience that makes most survival games look like a walk in the park. The fear factor ramps up as you progress, firmly cementing its place amongst the top-rated scary games.
The battle sequences are so detailed and intense that they feel ripped straight out of the best battle games. Whether you're wielding a gun or a sword, slaying zombies has never been so satisfying or chilling; making Dead Zombie Hunting a must-play for fans of both gun and sword games.
The eerie environments, haunting soundscapes, and relentless onslaught of undead enemies make Dead Zombie Hunting an unforgettable foray into horror games. A complete package that offers more than just scares - it's survival at its darkest. With its perfect blend of horror and action, Dead Zombie Hunting reigns supreme among zombie hunting games.
In conclusion, if you're seeking some bone-chilling thrills combined with relentless zombie-slaying action, gear up soldier! Dead Zombie Hunting offers all this and much more making it a must-have addition to any gamer's collection. Lock 'n' load gamers – it's time to hunt or be hunted!
What are the best online games?