Dead City: Zombie Shooter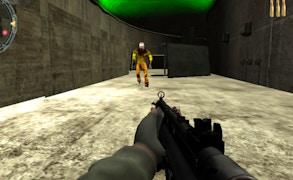 Dead City: Zombie Shooter
Immerse yourself in the terrifying yet exhilarating world of Dead City: Zombie Shooter, one of the best shooting games currently shaking up the gaming scene. This adrenaline-pumping game is a fascinating blend of intense gunplay, strategic survival, and heart-stopping horror that encapsulates some of the most loved aspects of zombie games, gun games, and survival games.
Dead City: Zombie Shooter throws you into an eerie post-apocalyptic wasteland where death lurks around every corner. This world is a nest for flesh-hungry zombies, ruthless raiders, and vicious deadly enemies—with one mission, to claim your life. The overall menacing ambiance excellently executed throughout the game makes it a strong contender in the category of top-notch horror games.
The gameplay leans heavily on strategy and skill, where each bullet counts and every wrong move could be your last—perfect for those who favor thought-provoking, high-stakes action. It's a remarkable fusion of zombie shooter with elements common in sniper games, requiring precision aiming and careful planning to ensure your survival.
A part that really stands out is its story-driven aspect. It's not just about surviving; you are humanity's last hope. You are tasked with rescuing survivors to rebuild civilization while combating terrifying threats with gun blazing action—adding an emotional layer to the usual shoot-to-kill setup typical in many scary games.
In conclusion, if you're seeking an intense shooting experience that conquers the thrill of horror and the challenge of survival, then this game provides all three in spades. From gripping narratives to relentless zombie hordes - Dead City: Zombie Shooter promises a bone-chilling journey you wouldn't want to miss.
What are the best online games?