Dark World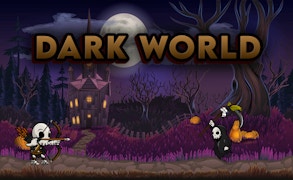 Dark World
Description
Enter the realm of Dark World, a thrilling platformer packed with mystery and dangerous enemies. Your mission is to navigate through 30 uniquely designed levels, each teeming with challenges. Arm yourself with a sword and arrows, and confront your foes head-on. Be cautious, as the dark world is filled with treacherous paths and crafty adversaries waiting to strike. Find your way out of every level by exploring different platforms for various useful items.
How to play
Controlling your knight in Dark World is both simple yet engaging. Use the jump button or 'w' key to leap over obstacles or enemies. Engage in melee combat using the sword attack button or 'space' key. Stealthily take down opponents from distance by throwing sword using the dedicated button or 'c' key on your keyboard. Always remember, courage is your greatest weapon!
Tips and Tricks
In Dark World, it's important to utilize all available game mechanisms for success. Prioritize avoiding enemy attacks over landing hits when necessary. Explore all platforms thoroughly before moving on to new levels - there may be hidden treasures that can aid you on your journey.
Features
30 Unique Levels: Each level presents a different layout and more intense fights.
Dual Attack Mechanisms: Engage in close-combat fighting or distant attacks as per strategy.
Lightweight & Optimized: The game runs smoothly on any device while offering superior graphics.
Multi-Language Support: Dark World caters to players worldwide with its 20 language options.
What are the best online games?