Cyberman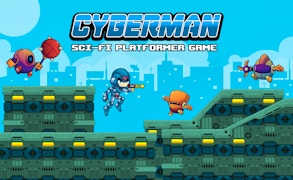 Cyberman
Description
In Cyberman, you are humanity's last hope in a world under siege by sinister robots. This action-packed HTML5 platformer game will require you to be brave, cunning, and quick. You'll face an army of monstrous machines as you tread through treacherous terrains and navigate through perilous platforms. With your advanced weaponry and unique skills at the helm, fight for mankind's survival against the robotic onslaught.
How to play
The game controls are simple - use your keyboard to move around, with specific keys allowing you to jump, crouch or run. Your objective is to destroy the enemy robots and navigate through each level. Use your mouse to aim and shoot at the enemies. As you progress, you'll unlock new weapons and abilities that will aid in your escape and defense against the relentless mechanical foes.
Tips and Tricks
In Cyberman, timing is key. Be sure to plan your jumps carefully, as robots often attack from above or below. Always be on the lookout for new types of enemies, who may require different strategies to defeat. Lastly, remember to utilize power-ups effectively - they can turn the tide of battle!
Features
Absorbing gameplay with challenging levels.
Diverse range of enemies each posing unique threats.
Lethal arsenal of weapons at your disposal.
Sleek graphics that perfectly capture the futuristic vibe.
Innovative power-ups that enhance combat capabilities.
What are the best online games?