Crazy Shooters 2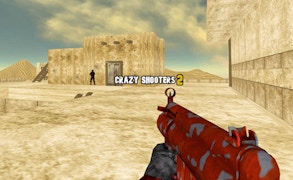 Crazy Shooters 2
Step into the high-octane world of Crazy Shooters 2, a thrilling entry in the pantheon of gun games. This intense war game drops players into explosive battles where survival is more than just a goal—it's a necessity.
From the moment you start your journey in Crazy Shooters 2, it becomes clear that this isn't your average shooting game. It's a wild ride designed for those with an insatiable appetite for action, for those passionate about gun games, war games, and survival games all rolled into one heart-pounding adventure.
Expect to be captivated by much more than just mindless gunfire and endless skirmishes. Crazy Shooters 2 offers an exciting opportunity to connect with friends and team up in a unique lobby system. You're free to create your own lobby, setting your rules and challenges, or jump into one set up by another daredevil like yourself seeking extreme combat scenarios.
But what truly separates Crazy Shooters 2 from other gun games? It's the sheer unpredictability and intensity of the combat. Just when you think you've got a handle on things, the game throws another curveball forcing you to adapt and strategize on-the-go. Much like the most harrowing war games and survival games out there, Crazy Shooters 2 demands strategy, skill, and unflinching resolve from its players.
Crazy Shooters 2 isn't just another shooting game--it's an immersive experience that takes gaming to new heights with strategic gameplay that will test every gamer's mettle. So gear up, recruit your bravest friends and prepare yourself for an unforgettable journey into the frenetic world of Crazy Shooters 2. The battleground is waiting—are you ready?
What are the best online games?