Craft Bros Boy Runner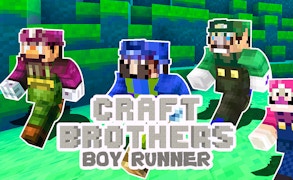 Craft Bros Boy Runner
Description
Embark on a thrilling pixelated adventure in Craft Bros Boy Runner. This high-octane action game brings the nostalgia of classic Mario games with a modern twist. Players take control of a courageous runner, effortlessly dashing through intricate mazes filled with perilous obstacles and powerful enemies. With razor-sharp reflexes and unmatched skill, charge forward to victory in this gripping endless runner game.
How to Play
Control your character using the arrow keys. Navigate through complex platforms by jumping over gaps and avoiding dangerous foes. Collect power-ups scattered across the levels to boost your abilities. Progression in this game requires both speed and strategy as you must constantly decide when to dodge, jump or attack. The game gets progressively difficult yet even more rewarding.
Tips and Tricks
The key to success in Craft Bros Boy Runner lies in timing your jumps perfectly . Always keep an eye out for power-ups as they can significantly increase your chances of survival. Remember, not every enemy can be defeated - sometimes it's safer to evade them.
Features
Action-Packed Gameplay : Non-stop action guaranteed to keep you on your toes.
Retro Pixel Art : Delightfully nostalgic pixel art style reminiscent of classic games.
Diverse Levels : A plethora of unique and challenging levels waiting for mastery.
Fierce Enemies : Face off against a variety of menacing foes throughout your journey.
What are the best online games?