Cookie Clicker Save the World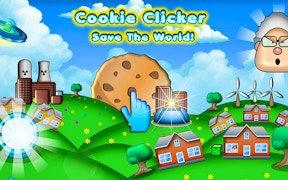 Cookie Clicker Save the World
Immerse yourself in the world of Cookie Clicker Save the World, an action-packed clicker game that gives a new definition to the term "idle games". This isn't just another one of those tap games, it's a game that keeps you thrilled, keeps you engaged, and rewards the time you invest into it.
From the moment I started playing, I found myself captivated by its addictively fun cookie clicking mechanics. The game proudly showcases over 400+ achievements - each more satisfying to unlock than the last. And it doesn't stop there; with a wide array of upgrades, modifications and power-ups available at your fingertips, each click brings with it a sense of gratifying progression.
Beyond just being one of countless clicker games on the market, Cookie Clicker Save the World sets itself apart with powerful free daily bonuses that keep you coming back for more. These daily bonuses are not just mere additions; they form an intricate part of your gameplay strategy and can significantly boost your progress.
The inclusion of minigame boosters is another feature that gives this game an edge over other idle games. It helps break the monotony and adds another layer of excitement to your cookie mining journey. Moreover, offline cookie mining is also offered for those who want to continue their advancement even when they are away from their devices.
Last but not least, evolution boosts provide an interesting twist. Offering meaningful development opportunities that allow players to shape their cookie empire based on their preferences and strategies.
In conclusion, Cookie Clicker Save The World is much more than a mere idle game. With its deep mechanics, surprise elements and plentiful rewards, it redefines what tap games could be. It makes every click count!
What are the best online games?