Combat Rescue Officer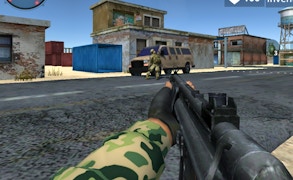 Combat Rescue Officer
Step into the battle zone with Combat Rescue Officer, one of the latest titles on the grid of gun games. Offering an uncompromising blend of battle games, war games, and survival games, this first-person shooter is set to throw you in the middle of adrenaline-pumping action and tactical warfare.
The game plunges you headlong into a thrilling world, where you need to survive against a torrent of undead enemies. Much like in sniper games, precision and sharpshooting skills are crucial for survival. Combat Rescue Officer gives you an arsenal of weapons at your disposal, with easy toggling between weapons via the mouse wheel or numbers 1-3 on your keyboard.
The controls are refreshingly intuitive - WASD or Arrows for walking, Mouse to aim and shoot, G to throw grenades, H for medical kits, I for inventory and much more. With every minute detail like V for melee attacks or L for flashlights taken care of, it's a strikingly immersive experience.
What sets Combat Rescue Officer apart from other survival games is its relentless focus on real-world war strike. You are not just playing a character - you become the action hero, ready to assassinate enemies in this war game that feels incredibly real.
The game allows you to take strategic stops with 'esc' for pause - making room for strategizing your next move in this high-stakes battlefield. From its rapid-fire action sequences to its survival-centric gameplay, Combat Rescue Officer challenges your combat skills at every turn.
In conclusion, if you are on a hunt for gun games that blend in elements from sniper games and survival games seamlessly under the umbrella of battle and war games – then Combat Rescue Officer should be your pick!
What are the best online games?