Colorful Ball X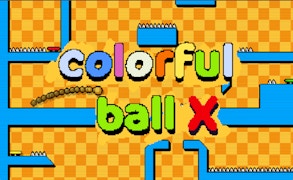 Colorful Ball X
Description
Embark on a vibrant journey with Colorful Ball X. This thrilling game involves navigating a vividly tinted sphere to the exit point. Be prepared for an adrenaline rush as you push through obstacles and unlock doors. Beware of the perilous spikes, coming in contact with them would be fatal. Your tiny round companion anxiously anticipates your guidance to win!
How to play
The game controls are rather simplistic, primarily involving tapping/clicking. Click on the screen to move the ball and reach for the exit. Press on the buttons scattered within the level to unlock doors. Avoid touching any spikes as it will instantly result in game over. Navigate your way around wisely and swiftly.
Tips and Tricks
Ensure you plan your moves ahead of time, especially when near spikes. Try not to rush while unlocking doors; patience can be a great asset here. Keep assessing your surroundings and manoeuvre accordingly for optimal survival.
Features
A vibrant pixelated world that is refreshing and captivating.
Different levels with varying complexities for an engaging gameplay experience.
Straightforward controls, making it accessible to players of all age groups.
A unique blend of escape, tap mechanics, and survival elements, offering diverse gameplay.
What are the best online games?