Clash of Orcs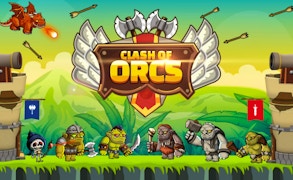 Clash of Orcs
Prepare to dive headfirst into the ferocious world of Clash of Orcs. As an entrant in the realm of top-tier battle games, this real-time strategy spectacle will grip gamers with its fierce intensity and demanding tactics, placing it within the most engaging sword games and archery games.
The essence of Clash of Orcs lies in its strategic unit deployment, boiling down to one core objective: annihilate your opposing base. Commanding your orc army, you'll wield the power of strength and strategy to dominate in an epic battle for supremacy. Yet, it's not just about brute force - success is shaped by the cunning orchestration of various units to create an unbeatable attack force. Continually challenge yourself, testing various combinations for that sweet winning formation - a strategy lover's dream!
Key moments hinge on your ability to make split-second decisions. Choosing the right units at the optimal time can make or break a round, adding an exhilarating level of urgency seldom seen in other monster games. This element continuously stokes excitement throughout gameplay, ensuring every skirmish is as intoxicating as the last.
The beauty of Clash of Orcs resides not merely in its raw intensity, but also in its dexterous balance between brute strength and tactical acumen. It's a game that challenges tactics just as much as it probes courage. A rich tapestry weaved with relentless battles and vivid monsters waiting to be dispatched - how could any gamer resist?
In summary, Clash of Orcs serves up a thrilling virtual battlefield that surpasses many contenders within battle games. Whether you're a fan of sword games or archery games, or you relish monster-fighting mayhem – this game is sure to captivate you. So gear up for battle, strategize your forces and see if you have what it takes to reign victorious!
What are the best online games?