Clash of Kingdom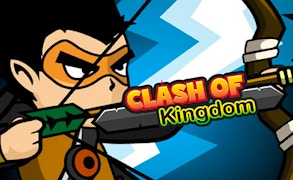 Clash of Kingdom
Description
Immerse yourself in the heart-pounding action of Clash of Kingdom. This online game enthralls you in a battle for supremacy among different kingdoms. Experience the thrill of warfare, full of strategic maneuvers, heroic knights, monstrous adversaries, and breathtaking engagements. Step into a world where every decision determines the fate of your kingdom - ensuring victory or spelling doom.
How to play
In Clash of Kingdom, you use your keyboard's arrow keys to maneuver your knight on the battlefield. Wield your sword with precision to slay monstrous creatures and protect your kingdom using the assigned action keys. As you progress in the game, engage in tougher battles presenting an opportunity to upgrade weapons and defenses, ensuring growth and longevity.
Tips and Tricks
To succeed in Clash of Kingdom, focus on strategic maneuvers. Understand the attack patterns of your enemies for effective dodging. Monitor your health bar and retreat when necessary for recovery. Upgrade smartly! Invest in both offensive and defensive upgrades to maintain balanced power.
Features
Fascinating Graphics: Experience detailed battlegrounds and realistic animation sequences.
Multilevel Gameplay: Progress through multiple levels each offering distinct challenges.
Skill Upgrades: Enhance combat skills and acquire new weapons as you advance in game.
Intriguing Storyline: Discover a captivating narrative that keeps players hooked till end.
What are the best online games?