Chicken Invaders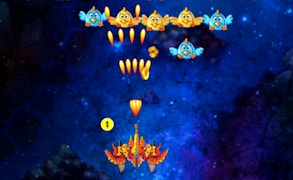 Chicken Invaders
Have you ever dreamt of soaring through the cosmos, battling intergalactic foes with daring bravado? Or perhaps you've envisioned yourself as a defender of Earth, standing against alien invaders in gut-wrenching shooting games? If so, then buckle up, space cadets, because Chicken Invaders is the game for you.
In the realm of flying games, Chicken Invaders is a hidden gem that deserves its spot in your collection. Its premise might be simple - liberate the galaxy from the iron clutches of alien chickens - yet it's this simplicity that gives it an irresistible charm. The graphics, while not groundbreaking, are suitably vibrant and lively. The audio design complements the fast-paced action wonderfully and adds to the whole experience.
What makes Chicken Invaders stand out in battle games, however, is its innovative gameplay mechanics. It masterfully blends elements of retro arcade shooters with modern game design philosophy to create something truly unique. Managing your spaceship's movement while raining destruction on your avian adversaries offers a captivating challenge that will keep gamers coming back for more.
However, it's not just humans versus poultry here! In a delightful twist on animal games, you'll face off against various extraterrestrial creatures who are just as eager to cluck you into oblivion. It's this whimsical variety that keeps each fight fresh and exciting.
In conclusion, whether you're a seasoned space pilot or someone looking for their first foray into shooting games, Chicken Invaders should be on your radar. It's an engaging amalgamation of flying and battle games with a sprinkle of animal antics for good measure - a sure-fire recipe for gaming enjoyment!
What are the best online games?