Chicken and Crow Shoot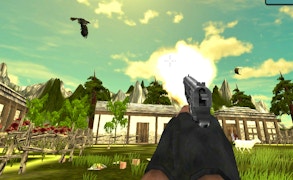 Chicken and Crow Shoot
Strap in, shooters! The newest addition to the gun games genre, Chicken and Crow Shoot, is a wild, feathery frenzy that will have you hooked in no time. Drawing on nostalgic vibes of classic bird hunting games, it cranks up the excitement with modern ideas and a refreshing shooter interface.
This entertaining title pushes boundaries for genres like battle games and sniper games. Rather than navigating through conventional warzones or dystopian futures, you'll find yourself embroiled in a relentless avian onslaught. The atmosphere merges the thrill of target shooting adventure with the excitement of FPS (First Person Shooter) games.
The crows shooter games landscape was in desperate need of a breath of fresh air, and Chicken and Crow Shoot delivers just that. This game goes beyond offering simple shoot 'em up fun; it swaddles you with layers of thrill from tight shooting mechanics to animal hunting missions that add new flavors to existing hunting games.
The game controls are both easy to learn yet hard to master - an aspect that invites beginners while still challenging hardcore gamers. A versatile arsenal awaits you - from trusty pistols to deadly sniper guns - paving ways for diverse strategies and playstyles.
Chicken and Crow Shoot brilliantly weaves together various elements from different genres making it an exhilarating cocktail of fun. Not only do you get the satisfaction of shooting down pesky crows, but also enjoy the take on animal hunting missions which doubles your gaming pleasure.
Gather your guns, aim high, let the feathers fly! With Chicken and Crow Shoot's distinctive mix of tension, strategy, and enjoyment, it rapidly ascends the ranks among other gun games, securing its spot as a must-try game for every FPS enthusiast out there.
What are the best online games?