Challenge the Runners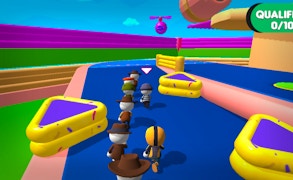 Challenge the Runners
Strap in for adrenaline-pumping action with the explosion of hilarity and fun that is "Challenge the Runners". This game belongs to the popular genre of running games, and takes an exhilarating sprint forward with its unique blend of elements from stickman games and fun games.
In a world vividly bursting with colour, you, the player, are pitted in pulse-quickening races across various landscapes. The aim? To outstrip all rivals in a thrilling race to the finish line without being eliminated. Is it as breezy as a saunter in the park? Far from it! There are mind-boggling obstacles, devious traps, and relentless opponents all gunning for your downfall. The challenge is real, as is the exhilarating fun.
"Challenge the Runners" offers riveting 1 Player mode where you match your wits against online or bot opponents. Looking for some friendly rivalry? Challenge your mates with the engaging 2 player games mode. It's not just about winning, it's about winning in style; unlock new skins and characters with your hard-earned coins won through spectacular game achievements.
A perfect fusion of fast-paced action and light-hearted amusement makes "Challenge the Runners" stand out amongst other stickman games. Its dynamic gameplay ensures endless hours of entertainment while its vibrant graphics are sure to delight visual enthusiasts. So if you are a fan of running or stickman games or simply looking to have some fun, "Challenge the Runners" should be your next pit stop!
What are the best online games?