Captain Sniper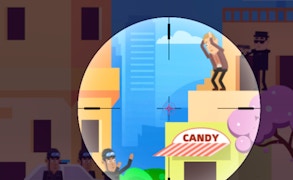 Captain Sniper
Immerse yourself in the riveting world of Captain Sniper, a captivating addition to the realm of sniper games, and one that makes its mark in the tribe of gun games. As a high-octane, adrenaline-pumping experience, this game will have you on the edge of your seat from start to finish.
Dawn the persona of a superhero detective tasked with a noble cause - protecting civilians from malevolent forces. Your duty becomes indispensable when you hear whispers of a terrorist organization planning an attack on innocent lives. Such intense and intricate plot points give it an edge over typical police games, creating a deeper sense of engagement and investment.
Nothing spells heroism like the hush-hush world of undercover operations, and with your beloved sniper rifle at your disposal, you're well equipped to combat this threat head-on. The game's mechanics are both intuitive and satisfyingly challenging, allowing players to truly slip into the skin of their sniper alter-ego.
Captain Sniper stands tall amongst its peers by infusing elements from gangster games. The gritty undertones help in creating an immersive environment that fully draws players into its explosive narrative. But remember – every action has consequences. So tread lightly unless you want to trigger a full-on gang war.
In conclusion, Captain Sniper isn't just another face in the crowd of shooting games. It's an exhilarating journey that keeps you engaged with its mix of strategic gameplay, stealth missions, and heart-racing shootouts. It's not just about pulling the trigger; it's about knowing when to pull it. Whether you're a fan of police games or yearn for the thrill that only sniper games can deliver, Captain Sniper is an absolute must-play!
What are the best online games?