Café Paris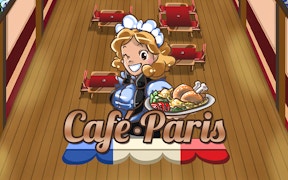 Café Paris
Welcome to the bustling world of Café Paris, an entrancing amalgam of restaurant games, management games, and cooking games. As the latest addition to the ever-popular strategy genre, Café Paris simulates the thrills and spills of managing an exquisite Parisian café amidst the city's vivacious backdrop.
In Café Paris, you have been thrust into a position of leadership as your very own boss. Paris, often dubbed as the city of lights, is teeming with coffee shops at every corner. The game requires you to employ not just your culinary finesse but also your strategic acumen. Whether it's deciding which ingredients to stock up on for your café or how to pacify impatient customers, you'll need a keen analytic mind and quick reflexes.
This game offers players an authentic taste of café management like no other. In line with iconic management games, it presents varying degrees of challenges that keep players on their toes. The fast-paced gameplay captures the vibrant atmosphere found typically in popular restaurant games.
Café Paris also excels in its cooking aspects. Aspiring chefs will delight in concocting their own blend of coffee or creating mouth-watering delicacies from scratch. The cooking elements tie in seamlessly with the management aspects, akin to timeless cooking games.
All things considered, Café Paris stands out not only for its slick graphics but also for its engrossing gameplay that strikes a perfect balance between challenge and fun. So strap on your apron, rev up that coffee machine, and experience the enticing life of a chic café proprietor in the heart of Paris.
What are the best online games?