Burger Shop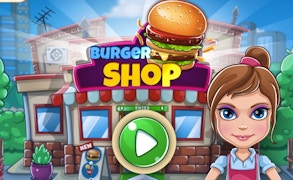 Burger Shop
Welcome to our latest review where we dive into the insatiable world of Strategy gaming. Today, we tantalize our taste buds with a delightful Management Game that whisks us into the heart of a bustling eatery - Burger Shop.
The unique blend of cooking, management, and light speed service in Burger Shop is an exhilarating nod to the addictive genre of restaurant games. Burger Shop isn't just a game; it's a thrilling journey that tests your ability to create mouth-watering burgers amidst the exhilarating rush of hungry patrons.
The premise is simple yet captivating: use quick fingers and sharp recollection to serve your famished customers. Your mission? To whip up tantalizing burgers complete with crisp fries, refreshing drinks, and sinfully sweet desserts. But watch out! The real challenge lies in getting the orders right. A single mix-up can turn your customers from happy to peeved quicker than a burnt burger.
Accumulate large tips as you hustle through levels, and who knows - You might just earn yourself the coveted title of the Burger King! This is not just a game for kids but also an addictive fun diversion for adults. It's fast-paced, it's demanding, it makes you crave junk food - but most importantly, it's absolute fun!
In my experience playing Cooking Games, Burger Shop stands tall with its enjoyable gameplay mechanics, vibrant visuals, and an undeniably addictive quality that keeps you coming back for more. It taps into every gamer's secret wish—running their own restaurant—and turns it into a reality you can enjoy from the comfort of your couch.
In conclusion, if you're on the hunt for an immersive Management Game that'll test your memory under pressure while providing hours of fun – then look no further than Burger Shop! Happy Cooking!
What are the best online games?