Bunny Cakes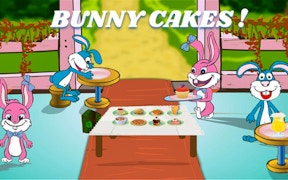 Bunny Cakes
Welcome to my game review of the delightfully addictive world of Bunny Cakes, a unique addition to the genre of Strategy Games. Fusing together the elements of animal games, management games, and an unexpected twist - a culinary adventure found in restaurant games and cooking games.
The premise is simple yet captivating: create exquisite carrot cakes shaped like adorable bunnies. This game isn't your typical strategy fare, it's time to hang up your battlefield boots and don your apron. The kitchen is your new battlefield, where culinary creations are your tools of victory.
The visuals in Bunny Cakes are delightful, with an array of colours akin to a baker's palette. You can't help but marvel at the whimsical aesthetics as you bake these bunny-shaped treats. But don't be fooled! Behind this seemingly simple baking game lies a rigorous task of strategic planning and resource management.
In this game, efficiency is king. Juggling resource gathering (carrots aren't going to peel themselves), time management, and keeping your customers satisfied brings depth to this supposed cutesy escapade. It's a blend that works harmoniously, catering to fans of animal-themed games and strategy enthusiasts alike.
The fun is in the journey, not just the destination. Baking is merely an avenue for the engrossing strategy elements you will navigate through in Bunny Cakes. It's about making decisions on the fly amidst chaos – often messy – but undeniably worth it.
Bunny Cakes truly redefines strategy gaming with its innovative blend of charming visual aesthetics, a distinctive theme, demanding strategic planning and immersive gameplay. It's definitely more than your average 'sugar, spice, and everything nice' sort of game!
What are the best online games?