Bullet Rush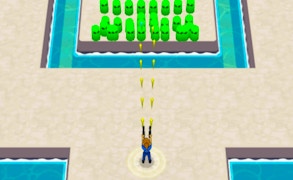 Bullet Rush
Welcome to the thrilling domain of Bullet Rush, a frantic venture amidst the gritty genre of gun games, skill games, escape games and survival games. This impeccable blend of adrenaline pumping action and tactical gameplay will grip you from the first shot fired.
Bullet Rush catapults you to a danger-ridden island, teeming with monstrous green creatures unleashed by a rampant virus. Your mission? To cleanse this forsaken place, using your skills, nerve, and precision. Yes, their number is daunting. Yet, every successful shot brings you one step closer to that crucial plane spot, your only route to safe shores.
In this compelling world of gun games, your firearm isn't just a weapon - it's an extension of yourself. As you progress through the game, you uncover ways to improve your weapon. Doing so allows you to bring down these relentless foes faster, making each bullet count and ensuring your survival in this ruthless environment.
Bullet Rush blends elements of skill games and escape games. Every decision impacts your survival as much as every bullet fired. The thrill heightens with each level cleared; a swift testament to your shooting skills and strategic instincts.
But remember: Survival isn't just about outgunning opponents. Bullet Rush defines itself amongst other survival games by challenging players on multiple fronts. You're not just surviving – you're navigating complex terrain, evading monstrous adversaries, making snap decisions under pressure, all while improving your weapon for optimum effectiveness.
In conclusion, Bullet Rush sets itself apart in the landscape of gun-based survival games with its immersive storyline, varied challenges and constant need for skill improvement. Whether you're a seasoned veteran in shooting games or an eager newcomer looking for an intense experience - Bullet Rush is a must-play!
What are the best online games?