Bullet Party 2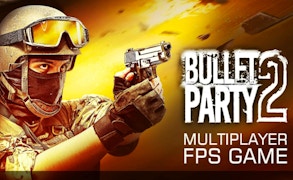 Bullet Party 2
Think back to the early days of multiplayer computer gaming when LAN parties were a thing and games like Bullet Party 2 paved the way. Like many of its peers, this is a first-person shooter game where everyone you meet is a potential threat. Start the game by picking a class that suits your play style and hopefully has a weapon to further complement it. Move slowly and make every shot count because any miss could spell the end for you. If that happens, stretch your fingers and jump back into a new match with the aim of reaching the top.
About Bullet Party 2
A game like this may remind you of the early days of Counter-Strike where it was one team versus another amongst a variety of low-poly maps. Those elements are included in here but even more, simplified with the goal of staying alive. Each area offers a layout to familiarize yourself with as you try to master the different weapons and movements. Matches tend to be short and quick which is perfect for those with busy schedules who just want to jump in for a bit of action. Considering how active the game is, there's always a match going if you don't feel like making your own.
How to Play
Bullet Party 2 is an FPS game that uses a keyboard and mouse.
Controls
Mouse Cursor - Look/Aim
Left Mouse Button - Fire
Right Mouse Button - Precise Aim
W - Move Forward
S - Move Backward
A - Move Left
D - Move Right
Spacebar - Jump
Shift - Sprint
C - Crouch
J - Throw Ammo
H - Throw Medkit
Number Keys (1 to 4) - Cycle through weapons

In every game mode, you'll need to defend yourself and take out any opponents standing in the way of your objective. When you join a match, you'll have a few moments to choose a class before you spawn in. Once you do, start exploring the map and seeking out the objective or enemy players to take down. If you're killed, you can choose to leave the game or respawn in if there's still time left in the match. The game ends after the timer ends or enough points have been scored by a team or player.

Tips and Tricks
Despite what older FPS games may be like, this one is a bit slower so it might take some time to get used to pacing. By default, some of the game sounds are turned down so make sure you adjust that. This is to help when navigating maps that have a lot of blind spots.
Bullet Party 2 Game Modes and Classes
Before you attend the party, note that there are three game modes that you can participate in and four different classes that you can play.
Game Modes
Team Deathmatch - Join a team with the goal of racking up the most kills against the opposing team.
Free for All - It's every player for themselves to get the most kills.
Capture the Flag - Work with your team to steal the enemy's flag and bring it back to your own to score points.
Classes
Assault - A class meant for the frontlines that can dish out damage at close range.
Recon - A class made for speed and observation that can attack quickly and from a distance.
Engineer - A class made to keep teammates geared up with extra ammo.
Support - A class made to keep teammates healthy with medkits.

Game Details
Developer: Engin Yildiz
Platforms: Web Browser (PC and mobile)
Languages: English

Gameplay Footage
FAQs
Is Bullet Party 2 available on other devices?
Though the game is free to play on your Web Browser, you can also download the APK version for your iOS and Android devices. However, you will still need to be online to play.

Games similar to Bullet Party 2
Based on the kind of gameplay this title has, you can find it in the Shooting and Gun Games categories on GamePix. There you can also find Bank Robbery, Sniper Attack, FNAF Shooter, and Farm Clash.
What are the best online games?