Bullet Fury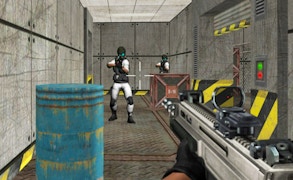 Bullet Fury
If explosive gun games and high-stakes battle games are your adrenaline shot, then prepare to be blown away by the captivating Bullet Fury. This is more than just a game, it's a high-intensity combat experience that guarantees thrill and excitement.
Bullet Fury infiltrates the realm of survival games with its gripping narrative and ultra-realistic 3D graphics. Your mission, should you choose to accept it, involves heading an elite troop that stumbles upon a clandestine laboratory run by enemy forces. Armed with your trusty gun, it's down to you to wipe out every enemy guard that stands between you and victory.
The game catapults you into the heart of the action from the onset. Choose your weapon from an impactful arsenal and prepare for some serious trigger-action in this top-notch shooting game. As far as sniper games go, Bullet Fury stands unrivalled with its nail-biting sniping sequences which demand precision and strategy.
The 3D first-person gameplay enables an immersive experience as it heightens the sense of realism like never before. Modified for both computer and mobile platforms, Bullet Fury brings the battle right to your fingertips anytime, anywhere.
In conclusion, Bullet Fury is a battlefield extraction of pure entertainment that blends together strategic combat style akin to notable gun games, engaging narrative reminiscent of thrilling battle games, survival instincts found in notable survival games, and stealth sniper operations typical of remarkable sniper games.
If your gaming soul surges for an adrenaline fix coupled with strategic action and stunning visuals, then Bullet Fury is just the bullet you need in your gaming chamber.
What are the best online games?