Bullet Car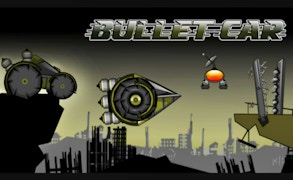 Bullet Car
If there's one phrase that can sum up the wildly enthralling experience of playing Bullet Car, it's 'thrilling, relentless survival'. A heady mix of car games, driving games, robot games, and survival games; Bullet Car offers an action-packed ride like no other in an eerie post-apocalyptic wasteland.
In this innovative game, you're not just a mere driver but a daredevil survivor navigating through the perilous badlands. Your only hope lies in an automobile that ingeniously transforms into a bullet. But beware, robotic sentinels are relentlessly in pursuit, hunting you down across the inhospitable terrain.
The heart-pounding action is coupled with the strategic necessity to utilize your car's transforming abilities wisely. The question hangs heavy—that of escaping with your life intact—adding to the adrenaline-fueled excitement of this riveting adventure.
A standout feature is undoubtedly its take on the classic elements of car games. The transformative ability of your vehicle adds a unique dynamic, forcing players to continually adapt and react quickly to outmaneuver the robot horde.
The game captures aspects of traditional driving games with precision controls and high-speed chases that evoke raw exhilaration. Simultaneously, it brings a refreshing change by integrating the thrilling mechanics of survival games . It isn't about racing to finish lines; it's about fighting for survival, every inch of the way.
The sinister Robotic Sentinels add an edge-of-the-seat dimension reminiscent of intense robot games . Their relentless pursuit makes every moment in Bullet Car a fight for survival against formidable adversaries.
In conclusion, Bullet Car does not merely pull together various gaming genres—it masterfully interweaves them into a seamless amalgamation. It delivers on high-octane action, relentless pursuit, strategic gameplay, and raw thrill—making it a must-play for any avid gamer craving for a pulse-racing venture into a post-apocalyptic world.
What are the best online games?