Builder Idle Arcade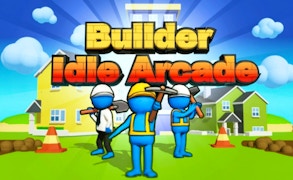 Builder Idle Arcade
Welcome to the exhilarating world of Builder Idle Arcade, a unique fusion of stickman games, mining games, building games, city building games, money games, and most notably idle games. This adventure-filled extravaganza pushes you into the charming world of house-building with complex orders and idle gameplay mechanics that keep you gripped to your screens.
The primary goal that sets you off in this game is an excitingly simple one: build a house. To procure the essential raw materials for construction, you must invest in and upgrade processing machines, ticking off the thrilling aspects of mining and money games. As a player, this necessity exuberantly plunges you into the engrossing economics of resource management.
The journey doesn't stop at just one house. After completing each project, you receive new orders, each escalating in complexity. So here is where Builder Idle Arcade stands out amongst typical city building games. Each project is like a stepping stone that takes you to another level of intricacy and engagement.
With every house built successfully, your stickman avatar garners new skills - progressively enhancing your work efficiency in these idle games - making each level more rewarding than the last. This aspect adds an RPG flair to Builder Idle Arcade, making it a captivating mix of different gaming genres.
Builder Idle Arcade, with its engaging blend of building and idle gaming mechanics intertwined with the charm of stickman characters and strategic aspects of money games, sets a new benchmark for diversity in gaming genres. It serves as an exemplar for how idle gaming has evolved beyond simplistic gameplay into something much more enthralling and complex- all while retaining its relaxing traits.
What are the best online games?