Bubble Tanks 3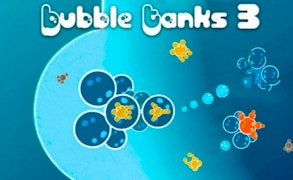 Bubble Tanks 3
Immerse yourself into the action-packed world of Bubble Tanks 3, the standout sequel in the Bubble Tanks series, and one of the most intriguing ball games of its time. Few games can truly offer a new experience with each play, yet Bubble Tanks 3 does so effortlessly, and in a way that keeps you yearning for more.
A game set apart by its unique design philosophy, Bubble Tanks 3 offers players the opportunity to grow, explore and constantly experience new things. It's as thrilling and unpredictable as it sounds. Just when you think you've got the hang of it, Bubble Tanks 3 introduces new elements to keep your interest piqued. It's not just an ideal ball game; it's an adventure that keeps unfolding.
What truly separates Bubble Tanks 3 from other tank games is its risk-versus-reward mechanic. Unlike most battle games, you choose your own difficulty level as you venture further out into unknown territories. The further out you go, the higher the risk - but also the higher the reward. It's exhilarating and nerve-wracking at the same time, ensuring that no two gaming sessions are ever alike.
In summary, Bubble Tanks 3 represents all that is captivating about tank games and battle games while introducing unique elements that make it stand out from its predecessors and contemporaries. Whether you're a seasoned vet or a rookie just venturing into ball games or tank games, this title promises to offer something for everyone. Do not miss out on this spectacular gaming experience! Embark on your adventure with Bubble Tanks 3 today!
What are the best online games?