Brawl Warfire Online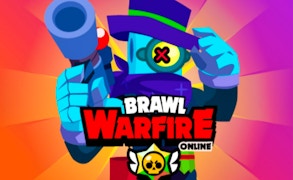 Brawl Warfire Online
Welcome to the thrilling world of Brawl Warfire Online – a dystopian universe where heroes don't just carry guns; they are the last standing resistance against an overwhelming robotic horde. This electrifying blend of battle games, war games, and robot games provides an intense, action-packed experience that hard-core shooting game enthusiasts will undoubtedly find addictive.
The game kicks off with an army of relentless robots marching towards humble towns, threatening to impose an iron-fisted rule. Enter the gallant heroes of Brawl Stars. These aren't your average gun-slingers; they are the final bastion of hope for humanity in a world teetering on the brink of robotic domination.
Brawl Warfire Online is a symphony of chaos and strategy, offering strategic depth that belies its frenetic exterior. As one of the most engaging gun games, it demands keen aiming skills and tactical foresight from players, pushing them into exhausting their mental reservoirs while simultaneously honing their shooting instincts.
The graphics are beautifully rendered, painting each town and each battlefield in vivid hues that dance in violent harmony with the sounds of gunfire and the metallic clanging of robot parts hitting the dirt. The game's intuitive controls ensure that even newcomers quickly fall into rhythm with its fast-paced gameplay.
A special mention goes out to kiz10.com for hosting this spectacular game for free! So, why wait? Brace yourself for war's fiery dance in Brawl Warfire Online. Brave soldiers and ruthless robots await you in this grand epic of survival amidst a world gone mad.
To sum it up, if you're looking for one-stop entertainment with gripping battle games, intense war games, or captivating robot games, Brawl Warfire Online will not disappoint! Buckle up, roll out and let loose your battle cries as you march forth on your quest to save mankind from becoming subjects to our robotic overlords.
What are the best online games?