Brawl Poo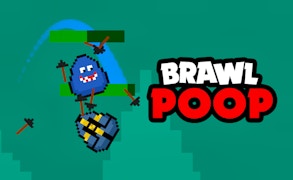 Brawl Poo
Description
In Brawl Poo, step into the shoes of a brave, fighting poo and engage in thrilling battles in different arenas. Slay monstrous enemies, claim victory, and earn gold to unlock stylish outfits. Remember, your appearance can also be a strategy in this game! The more you win, the further you progress. Also, don't forget to collect bonuses to acquire new skins.
How to Play
This game requires strategic movements. Click on your character and drag it in the opposite direction of where you wish it to go. Release to launch your poo warrior into action. To attack adversaries, aim and shoot arrows towards them. Remember, precision is key in this game!
Tips and Tricks
Make sure to use the environment to your advantage by using obstacles as cover from enemy attacks. Carefully choose your outfit as some might provide additional bonuses or abilities. Lastly, don't forget to collect as much gold as possible - they're essential for purchasing upgrades and new skins.
Features
Engaging pixel-art battle game with a unique protagonist.
A variety of arenas for diverse combat experience.
An extensive collection of clothes and skins for customization.
A rewarding system that grants golds for victories allowing character upgrades.
Precision-based arrow shooting mechanics.
What are the best online games?