Bone Breaker Tycoon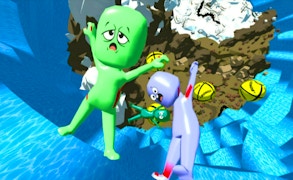 Bone Breaker Tycoon
Welcome to the world of Bone Breaker Tycoon, a fresh twist on action-packed stickman games. This hybrid of clicker games, battle games, and tycoon games is sure to keep you tapping away for hours on end.
The foundation of Bone Breaker Tycoon is as straightforward as it is devilishly fun – earn cash by tossing hordes of stick figures off towering mountains. Each injury—from scratches and bruises to fractured bones—racks up your score, turning pain into profit.
Unlike some standard tap games, this one leverages an engaging growth mechanic that keeps you hooked. The money you earn doesn't just pad your virtual pockets. It's put towards building your crowd, starting from humble beginnings with Jack and Jill, eventually amassing up to 100 unique crowd members.
The allure doesn't stop there though. The financial prosperity can pump up your insurance payouts, allowing you to play against more challenging mountains that promise bigger rewards. The sense of progress is palpable, akin to the best elements found in addictive tycoon games.
Bone Breaker Tycoon also doesn't skip out on customization options—a feature many die-hard fans of battle games will appreciate. Personalize your crowd's colors and names, giving each member a distinct personality which adds another layer of immersion to this captivating game.
In conclusion, Bone Breaker Tycoon brilliantly melds together mechanics from a variety of genres—stickman, clicker, tap, battle, and tycoon—to create an exhilarating gaming experience that will keep players occupied for hours at a time.
What are the best online games?