Bitcoin Tap Tap Mine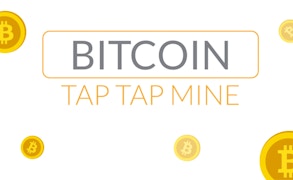 Bitcoin Tap Tap Mine
As an action-game aficionado who enjoys the compelling thrill and interactive gameplay, I was entranced by the unique prospect of Bitcoin Tap Tap Mine, a potent convergence of clicker games, tap games, idle games, money games, and tycoon games. This new-age offering in the realm of Crypto and Blockchain games not only piqued my interest but held me captive with its ingenious design and engaging gameplay.
Entering the virtual world of cryptocurrency mining with a simple tap on your screen is an exhilarating experience. You're not merely playing a game; you're stepping into the shoes of a bitcoin creator, feeling that same rush as your virtual wealth accumulates. This invigorating blend of tap games and money games offers players an unmatched gaming journey into the nerve-wracking world of Bitcoin mining.
My favorite aspect of Bitcoin Tap Tap Mine was how it seamlessly turned idle time into profitable gaming sessions. This powerful feature commonly seen in idle games, where upgrades continue to work in your absence, keeps you hooked. The more expensive hardware upgrades you acquire with your earned bitcoins, the faster you can mine - capturing the essence of what makes tycoon games so captivating.
The game also incorporates an element of luck through its spin-the-wheel feature - a delightful deviation from the crypto-mining theme that could reward you with tantalizing bitcoin prizes. And who can ignore the thrill when receiving bitcoin donations from anonymous donors? It's exactly these unexpected surprises that enhance one's playing experience.
In conclusion, if you're a fan of NFT games or simply looking for some passive fun, step onto the exciting rollercoaster that is Bitcoin Tap Tap Mine. It brilliantly intertwines elements from various popular genres like clicker, tap-, money-, idle-, tycoon- and blockchain-games into one addictive package – A must-try for any action game enthusiast!
What are the best online games?