Biozombie Outbreak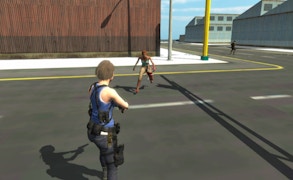 Biozombie Outbreak
Welcome to the terrifying yet thrilling world of Biozombie Outbreak, one of the top-notch gun games blending the raw intensity of survival games with the precision and strategy of sniper games. This is not just a game, but an unnerving experience that screams adrenaline, survival, strategy; but most importantly - shooting.
The game lets you walk down city streets crowding with blood-thirsty zombies in an apocalyptic scenario. The ambiance isn't a clichéd, despondent backdrop you often associate with zombie games. Rather, it is filled with an eerie silence punctuated by your heartbeat and a looming sense of dread.
Biozombie Outbreak is not just a game about surviving a zombie apocalypse; instead, it's about how long you can retain your sanity amidst the chaos. The gunplay is satisfyingly visceral; every shot fired from your arsenal feels powerful and decisive. In other words, as far as war games go, this brings new meaning to the genre.
The game's main attraction lies in its nerve-racking sense of urgency. Time here is more than just a ticking clock; it's your deadliest foe. Survival isn't about being the fastest finger on the trigger but about making every shot count when the odds are against you.
In conclusion, Biozombie Outbreak stands out among both battle games and zombie titles alike. It blends elements from various genres to create an experience that thrills with its intense shooting sequences and haunts with its grim atmosphere. So grab your guns and put on your sniper goggles because in Biozombie Outbreak, it's always hunting season!
What are the best online games?