Big Game Hunting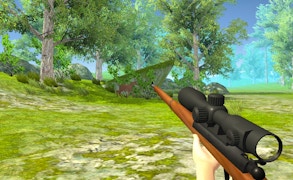 Big Game Hunting
Take aim and prepare to enter the explosive world of Big Game Hunting, a thrilling offering amidst the universe of gun games, where every shot counts and every miss could cost you the game. This isn't just about pulling triggers; it's about strategy, precision, and survival.
As far as hunting games go, Big Game Hunting is the ultimate 3D simulation with a twist - it doesn't just simulate hunting; it prepares you for it. Your weapon of choice? A lethal sniper rifle, ready to drop targets with a single pull of the trigger. The concept is simple enough: Aim. Shoot. Score. But it's in the execution where things get adrenaline-pumping!
Moving mechanical targets are your prey in this high-stakes sniper game that tests not only your shooting skills but also your ability to adapt on the fly. You'll be poised on the edge of your seat as you anticipate their erratic movements, all while honing your sniper skills to perfection.
While some games fall flat in their attempts to simulate real-life experiences, Big Game Hunting excels, providing an immersive environment that's as close to actual hunting as one can get without stepping foot outdoors. Each level amps up the difficulty, challenging even seasoned snipers to up their game or risk being left behind.
If you're searching for hunting games that push your boundaries and force you to evolve from a casual player into a tactical sniper, then Big Game Hunting is your ultimate destination! It's not just another game; it's a battleground where your shooting skills will be put to the ultimate test!
So grab that virtual sniper rifle and prepare for an exhilarating adventure – because in Big Game Hunting, every shot matters!
What are the best online games?