Best Battle Cover Royale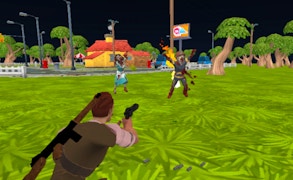 Best Battle Cover Royale
Dive into the relentless, adrenaline-pumping world of Best Battle Cover Royale, an electrifying addition to the universe of shooting games. This thrilling installment encapsulates elements of gun games, battle games, and survival games in one mind-boggling package that's sure to keep any gaming enthusiast on the edge of their seat.
As part of its exhilarating arsenal, Best Battle Cover Royale offers an unprecedented third-person multiplayer option. Battle it out in a volatile royale mode that pits player versus player or rally your comrades for intense team versus team skirmishes. Bask in the freedom to handpick any firearm from an expansive menu, ensuring no two battles are ever alike.
But where this game truly outshines its peers is in its innovative character selection feature. Choose from a diverse roster to play with your friends offering myriad tactical possibilities and countless hours of gripping gameplay. The sheer variety will have you coming back for more, testing out different strategies with each character.
As if it wasn't already brimming with excitement, this gaming titan throws another dart at your heart rate with the option to add zombies into the map—an ingenious twist that morphs it into a thrilling zombie game. Fight off hordes of undead opponents alongside your mates scattered across the globe. The thrill never stops!
The delicious tension and strategic gameplay put Best Battle Cover Royale on par with top-tier battle royale games. Its immersive nature and constant challenges keep you hooked like an expert sniper lying in wait—making it one hell of a compelling sniper game. Revel in this masterful blend of chaos and strategy, survival and domination, battle royale and zombie apocalypse. This is not just another game; it's survival redefined.
What are the best online games?