Bank Robbery 2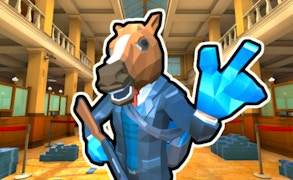 Bank Robbery 2
Welcome to the chaotic world of Bank Robbery 2, one of the most electrifying entries in the first-person-shooter and gangster-games genres. Prepared your senses to be thrilled as you plunge headfirst into a high-octane blend of strategy, survival, and relentless gunfire.
Fans of gun-games will be spoilt for choice with the arsenal at your disposal in Bank Robbery 2. Choose your weapon wisely, keep your finger on the trigger, and prepare for bullet-riddled encounters that will test your reflexes to their limits.
Your mission is simple yet treacherous: assemble your crew, plan your assault, breach the bank's mighty vaults, loot to your heart's content, and get out unscathed. However, it's easier said than done – with high-tech security systems and armed guards gunning for you around every corner.
In the heart of this game lies its epic robberies – each a new challenge requiring fresh strategy. Celebrating unpredictability, these heists are no mere walk in the park. Security patterns change dynamically each time you replay a level making Bank Robbery 2 a masterstroke in the genre of survival games.
The feeling of leading a team against all odds to pull off an impossible heist is intensely rewarding. This makes Bank Robbery 2 not just a game about shooting – it's an adrenaline-packed saga about planning, execution and survival only for the bravest hearts.
To sum it all up - If you thrive on chaos, crave non-stop action and don't mind getting your hands dirty (digitally speaking), then Bank Robbery 2 may just be the game you've been waiting for. So load up on ammunition, rally your gang, and make every robbery count!
What are the best online games?