Balloon Paradise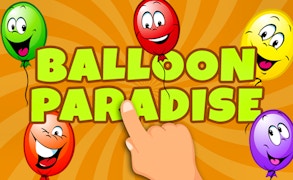 Balloon Paradise
Description
In the delightful arcade game, Balloon Paradise, you're tasked with clearing a sky full of glittering balls. You do this by swapping matching colored balloons to form groups and pop them. The game features attractive graphics enhancing the experience. Special bonuses such as an 'arrow' that clears a line and a 'bomb' detonating nearby balloons, add an exciting dimension to this captivating 'three in a row' challenge.
How to play
The mechanics of Balloon Paradise are simple and straightforward. Swap adjacent balloons by clicking or tapping on them to form groups of three or more of the same color. This action will cause the matched balloons to burst, allowing you to progress. Keep an eye out for special bonuses like the powerful 'arrow' and explosive 'bomb', which can help clear more balloons effectively.
Tips and Tricks
To maximize your points in Balloon Paradise, always aim for large groups of balloons rather than smaller ones. This yields higher scores and generates more bonuses. Also, use your power-ups strategically; deploy the 'arrow' when you can clear long lines and save bombs for dense clusters of balloons.
Features
Dazzling visuals making the game engaging.
An easy-to-understand, yet challenging 'three in a row' gameplay mechanism.
Special power-ups like 'arrow' and 'bomb' that add a strategic depth.
A relaxing soundtrack complementing the serene sky setting.
What are the best online games?