Bake Time Hot Dogs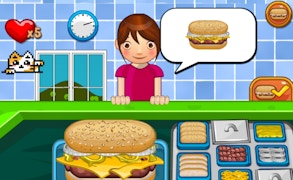 Bake Time Hot Dogs
Unlock the excitement and thrill of Bake Time Hot Dogs, a power-packed piece on our list of Management Games. This captivating strategy game is a must-have for all food enthusiasts and fans of restaurant and cooking games. With its unique selling point being quick and efficient service of scrumptious hot dogs to customers, Bake Time Hot Dogs promises an engrossing mix of culinary skills and time management techniques.
In this game, you don't only cook; you serve, you manage, and in turn, you earn! Prepare to experience the pressure of cooking under a ticking timer as your customers' satisfaction depends on how quickly you serve them their hot dogs. The faster your service, the bigger your tip - a perfect simulation of real-world customer service. Be ready to get hooked as every level passed results in higher stakes, more complex orders, and more satisfying triumphs.
Every element in the game - from cooking the perfect hot dog to serving it timely adds an extra layer of complexity and excitement, making Bake Time Hot Dogs stand out on every gamer's list. Let's face it: who doesn't like to play an enthusiastic chef dishing out deliciousness at light speed? Those who find joy in preparation would rate this as one of the best restaurant games.
The high-definition graphics combined with immersive sounds make Bake Time Hot Dogs highly engaging and realistic. If you ever dreamt about running your own restaurant business, Bake Time Hot Dogs takes you one step closer to that reality. In summary, if fast-paced restaurant management gaming gets your adrenaline pumping, then Bake Time Hot Dogs is just the right game for you.
So step into your digital kitchen apron and get ready to cook up a storm in this extraordinary blend of culinary delights and time management—experience what it's like to be at the heart of a nerve-racking yet rewarding restaurant kitchen with Bake Time Hot Dogs.
What are the best online games?