Avoid Dying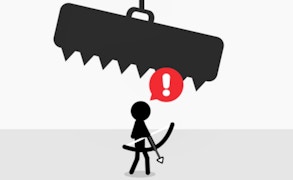 Avoid Dying
Unleash your inner warrior as you dive into the world of "Avoid Dying", a unique spin on the popular genre of stickman games and archery games. This action-packed challenge catapults you into an adrenaline-fueled adventure that weaves skill, precision, and a fast-paced gameplay into one riveting package.
In "Avoid Dying", players embody a tenacious stickman archer whose singular dream is to evade demise. It's not every day you come across an action game that manages to blend humor and intense gameplay seamlessly as this iconoclastic masterpiece does.
What sets "Avoid Dying" apart from other typical stickman games is its intuitive controls, allowing even beginners to pick up and play without enduring a steep learning curve. The target might be unassuming, but herein lies the challenge - each shot tests your patience, precision, and decision-making skills under pressure.
This game propels the somewhat saturated genre of archery games to exhilarating new heights with its heart-stopping suspense. Every arrow released holds the weight of life or death. Ostensibly simple, yet incredibly immersive, "Avoid dying" breathes new life into the stickman verse.
The visuals are minimalist yet engaging, amplifying the focus on the core mechanics. And fear not about repetition; there's ample variety in level design that keeps the gameplay fresh and players perpetually on their toes.
In conclusion, "Avoid Dying" takes an unpretentious concept and turns it into a thrilling rodeo of unabated action. So for those seeking a fresh take on stickman and archery games, gear up for an electrifying journey with this one-of-a-kind action extravaganza!
What are the best online games?