Assault Fury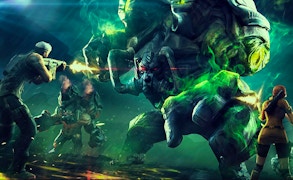 Assault Fury
Get ready to immerse yourself in the adrenaline-pumping world of Assault Fury, a stellar addition to the realm of shooting games. It's not just another entry in the gun games genre, but a notable standout, characterized as much by its heart-racing battle sequences as by its strategic gameplay.
The game effectively marries elements from popular categories like battle games, sniper games, and even dips its toes into the exhilarating territory of survival games. At its core, however, Assault Fury remains true to the spirit of classic shooting games.
A notable highlight of Assault Fury is its arsenal of multiple weapons. The game dances from traditional firearms to futuristic energy guns, delivering satisfaction for every type of gun lover. The wide range allows for a diversified gaming experience that keeps you on the edge of your seat.
The game surprises players with an impressive 40 levels. Each level ramping up in difficulty and intrigue, pushing your gaming skills to their limits. Every stage brings new enemies, exciting locations, and unexpected challenges. It's a roller coaster ride you don't want to miss.
Beyond the thrills and firepower, Assault Fury introduces an exciting array of multiple NPC types. Interacting with these AI characters adds another dimension to gameplay and ensures that players never get bored.
Last but certainly not least is the upgrade system. As you progress through this intriguing battlefield, your victories earn you upgrades. These enhance your abilities and weapons, making you an unstoppable juggernaut on the combat field.
In conclusion, if you're searching for a game that successfully combines aspects from several beloved genres—battle games, sniper games, survival games—Assault Fury should be your go-to choice. It promises endless entertainment and keeps you coming back for more thrilling action-packed playtime.
What are the best online games?