Arrow Fest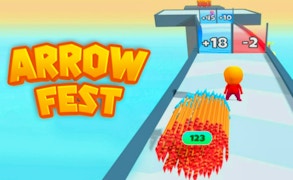 Arrow Fest
Fee-fi-fo-fum, can you smell the electrifying thrill of challenge? Into the compelling realm of Arrow Fest, a game that brilliantly melds archery games, math games, and running games. Don't be deceived by its initial simplicity, as this gem is far more than your average battle game.
This riveting universe brings to life the stickman trope with a unique twist, incorporating aspects of stickman games. In Arrow Fest, you hold the reins of power as you control your arrows, strategically choosing gates and annihilating every enemy in your path. It's like bringing to life a dynamic chessboard where each move is crucial. But don't forget the numbers! Combining elements of number games, you'll find yourself calculating your every move, making it more than just an action-packed adventure.
With every slain giant and fallen foe, collect heaps of coins to beef up your arrows and earnings. The goal is simple - gather as many arrows as possible to dispatch all opponents and emerge victorious. Ascend the ranks to transform into an absolute master of arrow control – a title coveted by many but held by few.
Arrow Fest's brilliance lies in its ability to seamlessly weave together various gaming genres into a single engaging experience. The adrenaline rush that comes from unleashing a volley of arrows on your enemies blends perfectly with the satisfaction derived from solving math problems in real-time scenarios. It entices you into its world with simple gameplay mechanics but keeps you there through its exhilarating challenges.
In conclusion, if archery battlefields mixed with number crunching sound like your jam or if you are just seeking an action game that breaks from the norm, don't hesitate to dive into Arrow Fest. This captivating action game might just be your next favorite go-to.
What are the best online games?