Army of Soldiers: Resistance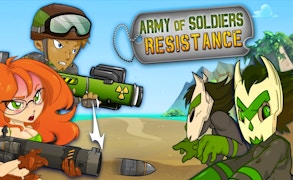 Army of Soldiers: Resistance
Welcome to the heart-pounding realm of Army of Soldiers: Resistance, where each moment is filled with bone-chilling suspense and explosive action! This new titan amongst gun games, battle games, war games, and even monster games, hurls you into an adrenaline-fueled world where survival means more than just victory.
The game concept is simple yet compelling. A ceaseless multitude of monsters and savage creatures have begun to infringe upon our very existence, leaving a trail of destruction in their wake. As the last hope for mankind, your mission is to command a tactical team of elite soldiers to put an end to this onslaught.
The distinctive charm of Army of Soldiers: Resistance lies within its blend of elements from multiple game genres. Imagine the rush from gun games as you mow down waves after waves of unearthly creatures, coupled with the strategic thrill from war games whilst managing your team and resource loadouts. Throw in some monstrous antagonists that would find their rightful place amidst monster games, complete with an epic backdrop that calls back to classic battle games - and you've got yourself this sensational amusement!
The battle is not just a fight; it's an all-out war teetering on the tightrope of life and death. Your soldiers need more than just firepower; they require strategy and quick thinking - elements that will captivate enthusiasts searching for something more than just an ordinary shooting game. Every decision you make could mean the difference between survival or eradication.
In conclusion, Army of Soldiers: Resistance offers heart-stopping action, gripping storyline, and captivating gameplay mechanics that seamlessly blend various gaming genres together. So gear up gamers, because this is one war worth enlisting in!
What are the best online games?