Arena: Noob vs Pro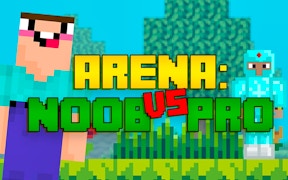 Arena: Noob vs Pro
Step right into the throes of a relentless and electrifying battlefield in Arena: Noob vs Pro. This addictive pixel game, lumping together gun games, battle games, and survival games, offers an adrenaline-pumping experience that you won't soon forget!
Arena: Noob vs Pro delivers an intoxicating mix of intricate pixel art visuals and sublime shooting gameplay. As a player, you commence your journey as a 'noob', traversing the treacherous terrains of a dynamic real-time multiplayer battle arena. Your goal? Upgrade your skills, hone your strategies, and ascend the ranks to transform from a noob into an unrivaled pro.
This game is not merely about individual prowess; it emphasizes team play. You'll tackle cunning enemies with your professional team in thrilling 3v3 challenges. Whether it's boss fights that test your mettle or quirky mini-games that offer light-hearted respite, Arena: Noob vs Pro serves up a smorgasbord of exciting activities.
What sets Arena: Noob vs Pro apart from its peers are its high stakes. With over 25 million players in previous iterations of Noob vs Pro games, expect fierce competition as you vie for top-dog status. But remember - survival is key! Every enemy killed guarantees increased odds of surviving the grueling arena.
In conclusion, Arena: Noob vs Pro is a paramount addition to any action enthusiast's gaming library. The blend of gritty gun games, suspenseful survival games, and strategic battle games makes this jewel shine bright amidst a sea of pixel games.
What are the best online games?