Animal hunters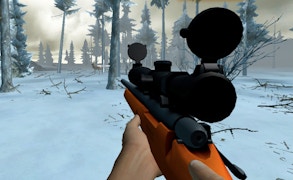 Animal hunters
Welcome to the thrilling world of Animal Hunters, a game perfectly designed for those who relish the thrill of gun games, animal games, and hunting games. Immerse yourself in this extraordinary fusion of nature and adrenaline where you get to be the apex predator.
Animal Hunters boasts an exceptionally realistic setting, featuring an array of different animals including majestic deer, nimble rabbits, cunning wolves, stout pigs, soaring hawks, and elegant swans. Each animal exhibits behaviors true to their real-life counterparts, enhancing your gaming experience by adding a layer of authenticity that keeps you hooked for hours on end.
The sniper guns in the game are as varied as the wildlife you encounter in your hunts. As you advance through levels and bag bigger game, you gather invaluable experience as well as in-game currency. This enables you to upgrade your equipment and improve its attributes, making your hunt more engaging and rewarding. With every upgraded piece of equipment, you get to unleash a whole new level of hunting mastery.
As appealing as it is to gun game enthusiasts, Animal Hunters is also guaranteed to satiate the cravings of those deeply invested in animal games and hunting games. Feel your heartbeat in your ears as you wait for the perfect moment to pull the trigger. Experience authentic hunting pursuits like never before.
In conclusion, Animal Hunters is truly a gem for all lovers of gun games, animal games, and hunting games. Its immersive gameplay coupled with strategic progression makes it an irresistible concoction that has been carefully crafted for your gaming pleasure.
What are the best online games?