Angry Ninja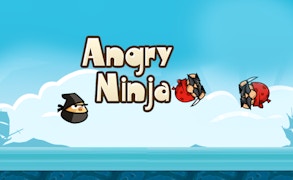 Angry Ninja
Description
In Angry Ninja, you take on the role of an enraged Ninja clan sworn to defeat a menacing legion of Pirates. This action-packed game demands exceptional skill in mastering high-speed, mid-air battles with razor-sharp throwing stars. The inviting gameplay and detailed graphics make this ninja game uniquely challenging and fun.
How to play
To control your ninja, use the arrow keys for movements and the space bar to unleash a flurry of throwing stars at the pirates. Progress in the game by successfully completing various levels filled with increasingly formidable pirate opponents. Remember, your flying skills and precision aiming are crucial for victory.
Tips and Tricks
Conserve your throwing stars for tougher enemies while using nimble movements to dodge pirate attacks. Use calculated timing when launching attacks from air and surprise enemies with quick swooping assaults. Remember, patience is key in this high-stakes aerial combat game.
Features
Sleek and easy-to-grasp controls
Crisp graphics that keeps you engrossed throughout
Different levels with varying difficulty settings for relentless entertainment
An action-packed storyline that pits Ninja against Pirates
What are the best online games?