Angry Infinite Runner - A Survival Run with Dragon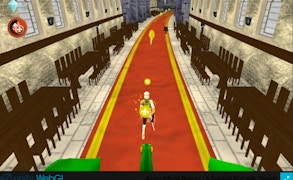 Angry Infinite Runner - A Survival Run with Dragon
Enter an electrifying realm of fantasy and action, with Angry Infinite Runner - A Survival Run with Dragon. This game is a thrilling fusion of running games, knight games, dragon games, and escape games, guaranteed to keep you on the edge of your seat with its heart-stopping action and breathtaking escapades.
Race across dangerous cliffs, dive into mysterious undersea worlds, navigate through enigmatic jungles, and storm stately castles. This game invites you to explore an assortment of terrains, each offering unique obstacles and challenges.
In Angry Infinite Runner, you're not just a passive player – you are the hero. You're charged with the task of surviving an onslaught of ice and fire. The challenge? To run faster and farther than you ever have before. To jump higher, spin faster, sprint harder. You're not just playing a game - you're partaking in a thrilling adventure that demands quick reflexes and strategic planning.
With every stride you take in this high-paced running game, every dragon you dodge in this adrenaline-pumping dragon game, every dangerous castle corridor you escape in this heart-racing escape game, you'll feel like a fearless knight from an epic knight game.
The graphics are crisp and immersive, hailing players to a beautifully rendered world teeming with danger at every turn. Between the dragons' roars echoing in your ears or the sheer cliff face disappearing beneath your feet—Angry Infinite Runner packs plenty of thrills for even the most seasoned gamers.
In essence, Angry Infinite Runner - A Survival Run with Dragon is more than just another run-of-the-mill title in the realm of action games. It's an exhilarating ride that tests your limits whilst keeping you thoroughly entertained.
What are the best online games?