Skibidi Laser Kill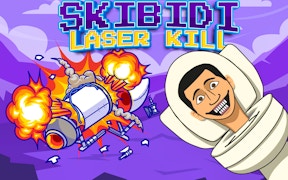 Skibidi Laser Kill
Description
Experience the thrill in Skibidi Laser Kill, a riveting laser shooter game. Armed with a potent laser, your character fends off a plethora of uniquely aggressive adversaries. Your survival depends on your dexterity and strategy in dodging lethal strikes and retaliating effectively. The intensity grows with each advancing wave of enemies, making this game a test of nerves, skill, and quick reflexes.
How to Play
Control your character using simple tap or click mechanisms. The aim is to avoid incoming attacks while countering with precision to eliminate enemies. Progression in the game relies on your ability to survive the waves; the longer you last, the higher your score. Quick reflexes are essential in dodging attacks while strategic targeting can help you vanquish foes effectively.
Tips and Tricks
Always keep moving to dodge enemy fire without fail. Prioritize enemies with faster or more powerful attacks for a better survival chance. Timing is crucial in this game; try not to waste any shots and make every attack count.
Features
A variety of enemy types each bringing unique attack patterns.
Fast-paced action gameplay that tests your reflexes and strategy skills.
A simple yet engaging control scheme suitable for all gamers.
An increasing difficulty curve that keeps players engaged and challenged.
What are the best online games?