Among Them Horror 3D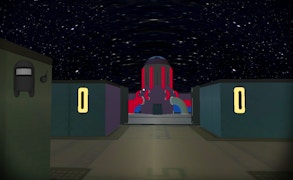 Among Them Horror 3D
Immerse yourself in a spine-chilling thrill ride with the action-pulsating, Among Them Horror 3D, a standout amongst scary games. This horror marvel is not for the faint-hearted. Originating from the acclaimed universe of "among them", the game skillfully intertwines elements of monster games, mystery and fright.
In this heart-stopping venture, your aim is to reach the elusive final door. But this isn't your typical walk in the park - no, far from it! Expect to encounter cunning puzzles that will test not just your gaming prowess but also your willpower. Among Them Horror 3D takes you on a nerve-wracking journey where every step you take could be your last.
One level, one puzzle, one exit, there's no room for dull moments or second chances in this world of relentless terror and excitement. Unlike other run-of-the-mill escape games, this game will grip you tight with its tantalizing promise of horror and suspense.
The game's crowning jewel, though, is its bone-chilling boogeyman - an intimidating adversary that elevates Among Them Horror 3D from typical skill games. Outsmarting this creature isn't about power; it's about strategic maneuvering and quick-thinking. You can hide, but can you outlast it? Can you survive till that final door?
In a nutshell, Among Them Horror 3D is an electrifying fusion of action and dread that proves itself a worthy addition to any hardcore gamer's library. Loaded with twists and turns, it delivers an unforgettable adrenaline rush, making it a must-play in the realm of monster games.
The only question left is: Are you ready?
What are the best online games?